What is RSO?
Rick Simpson Oil, or RSO (also known as Phoenix Tears), is a concentrated form of full extract cannabis oil prized for its medical benefits, especially for cancer patients. It is meant for oral consumption ONLY or inserted into the rectum in a suppository, and not to be inhaled or used for dabbing like other concentrated oils. Unlike distillate and isolate oils used for vaping, RSO/FECO (Full Extract Canna Oil) retains more of the phytochemicals present in the cannabis plant which adds to the therapeutic value.

After reading an article from the Journal of the National Cancer Institute about THC killing cancer cells in mice, Rick Simpson made the decision to attempt to treat his own Basal Cell Carcinoma topically with cannabis oil. After four days of bandaging his cancerous spots with cannabis oil, he removed the bandage to find the spots had disappeared. Unable to keep his success a secret, and despite legal risks, Rick has personally helped treat over 5000 patients with RSO and shared his knowledge with countless others. There are numerous anecdotal reports of successful outcomes utilizing his methods.
Where did RSO come from?
As the name suggests, it was developed by an individual named Rick Simpson back in 2003. At the time, Rick had been diagnosed with skin cancer and was looking for alternative forms of treatment. Having been a believer in cannabis for medical purposes, he whipped up a batch of cannabis oil, applied it to his skin topically, wrapped it in a bandage, and a few days later he claimed the cancerous growths were gone. Rick Simpson, Phoenix Tears

While there still needs to be more true medical research done to verify these claims (which is a whole other topic in and of itself!), the legend of RSO was born and has grown ever since. It is because of this creation, that many medical cannabis patients have been able to share their own positive experiences from this product and subsequently improve their overall quality of life.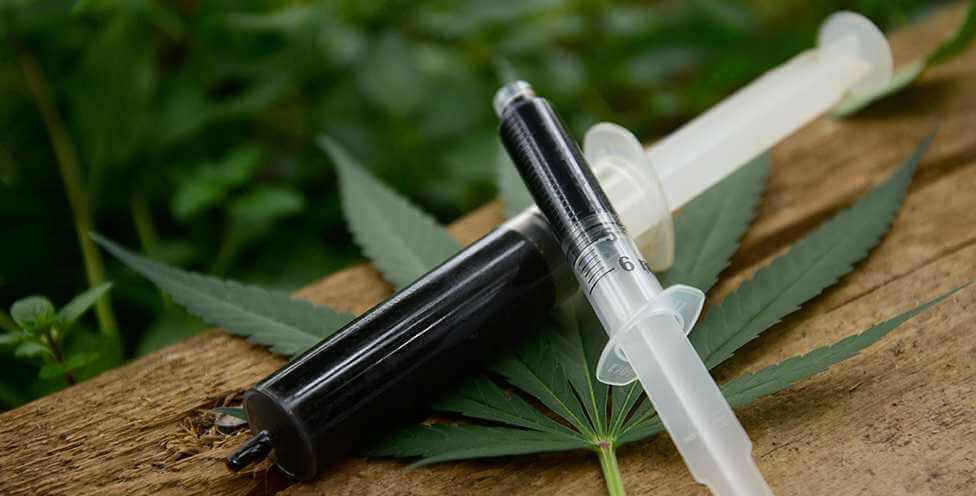 How to use RSO?
There are two main ways that RSO should be used. One is by ingesting the oil, which can be done with food, taken directly, or used sublingually under the tongue. The other method is to use RSO topically, in which case it is recommended to cover the area with a bandage. There is no one option that is better than the next when it comes to using RSO. It is up to your preference and your needs to decide which method works best for you.
RSO products are best used topically or as an ingredient such as an edible or tincture. RSO should never be inhaled as it contains all parts of the plant – fats, lipids, chlorophyll – which creates a very unpleasant experience. Because of this, RSO products are a great option for anyone who isn't interested in smoking or vaping cannabis.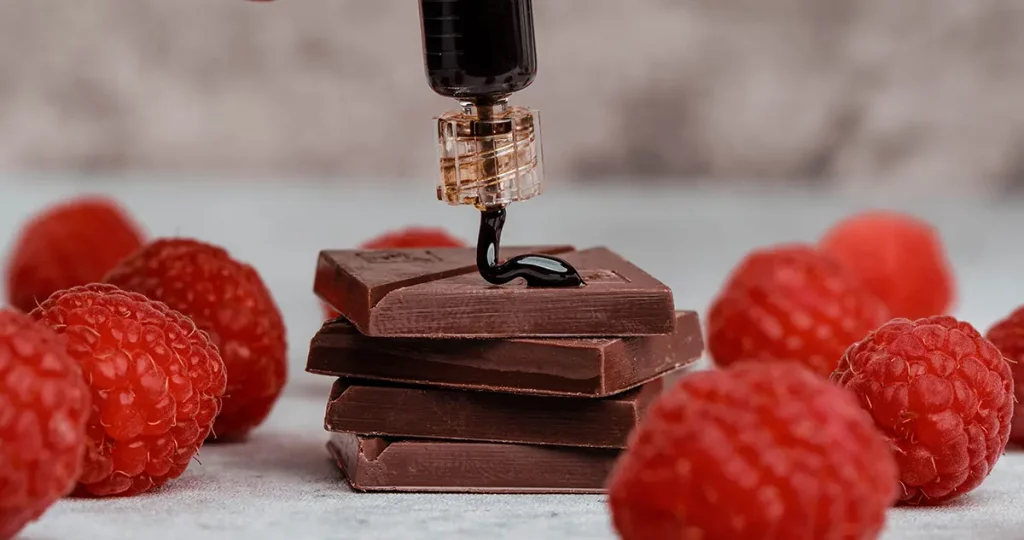 Suggested Dosing Protocol
The goal of a RSO protocol is to consume or absorb 60 grams of Rick Simpson Oil in 90 days.
This is a very large amount of cannabis oil and should be taken with caution, increasing the dose gradually to avoid adverse effects. One should ALWAYS have CBD tincture on hand to counter RSO overdosing to the point the room is spinning. At the first signs of getting high, taking 50 or if necessary 100 mg of CBD under the tongue and holding 1 minute before swallowing will minimize the psychoactive effect of RSO. Remember, humans CAN NOT die from THC, but they may want to if they overdose.
Below is a suggested outline for increasing the dose until the recommended 1 gram per day dose is achieved and 60 grams is achieved over 90-day period.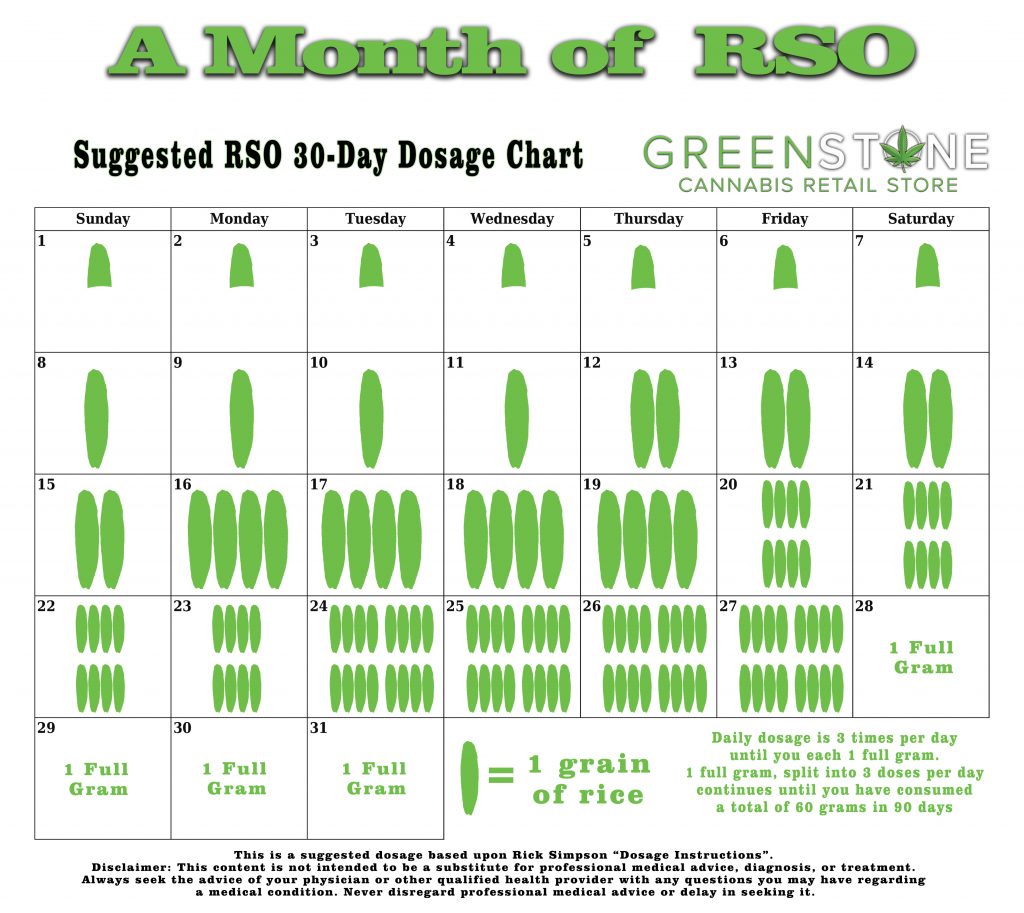 Dosing RSO always depends on your tolerance of cannabis and the goals of using Rick Simpson Oil.  If you are a beginner with cannabis, remember to start "low and slow."  If you are a person with a high tolerance for cannabinoids, then a higher dose might fit your needs better.  RSO typically comes in an oral syringe.  Since it is such a thick and viscous texture, it is difficult to measure the exact milligrams of THC if you consume the oil directly out of the oral syringe. 

Most people who consume RSO out of the oral syringe directly use the size of a grain of rice as the measuring stick for the size of your dose.  If you are a beginner, the smaller the better!  No dose is too small because you can always take more.  If you are a beginner with RSO and trying to find the right dose, you can take a small amount (less than a ⅓ of the size of a grain of rice) and wait 1-2 hours.  If you feel like you need more than you can always take another dose until you find just the right amount for your own body and desired experience.
Side Effects
Patients starting a RSO protocol should plan appropriately as the potential for side effects is greater during the first three to four weeks of the protocol. Once a tolerance is built most patients report few to no negative side effects. The most common side effect is sleepiness and sedation, with quality sleep being an important aspect of the healing process. High doses of THC can also cause increased heart rate, anxiety, dizziness, nausea, and difficulty with concentration. CBD can be used to counteract the psychoactivity or negative side effects of THC.
How long does RSO take to kick in?
How long it takes for RSO to kick in depends on the method of ingestion.  If you consume RSO by eating it, the typical time it takes to kick in is 15 minutes to 45 minutes.  RSO can be turned into a tincture and taken sublingually, which has a more immediate effect.  Sublingual ingestion will typically kick in between 1-15 minutes.  Lastly if you vaporize RSO you can feel the effects immediately.
DISCLAIMER:
THE INFORMATION ON THIS SITE IS NOT INTENDED OR IMPLIED TO BE A SUBSTITUTE FOR PROFESSIONAL MEDICAL ADVICE, DIAGNOSIS OR TREATMENT. NEVER DISREGARD PROFESSIONAL MEDICAL ADVICE OR DELAY SEEKING MEDICAL TREATMENT BECAUSE OF SOMETHING YOU HAVE READ ON OR ACCESSED THROUGH THIS WEBSITE. THESE STATEMENTS HAVE NOT BEEN EVALUATED BY THE FOOD AND DRUG ADMINISTRATION (FDA). CANNABIS AND CANNABIS PRODUCTS ARE NOT INTENDED TO DIAGNOSE, TREAT, CURE OR PREVENT ANY DISEASE.

DO NOT OPERATE A VEHICLE OR MACHINERY UNDER THE INFLUENCE OF THIS DRUG. FOR USE ONLY BY ADULTS TWENTY-ONE YEARS OF AGE AND OLDER. KEEP OUT OF THE REACH OF CHILDREN.